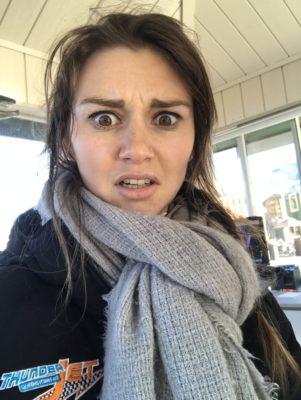 Emily Croce (The Face)
Ahhh! Our lovely Sales and Marketing chick, she is always busy, out and about visiting agents, drinking coffee or snapping for social media. Emily walks round with a light bulb above her head shining very bright – she's an ideas girl.
---
Michaela Jewson (CEO of First Impressions)
Known for her voice of an angel, Michaela's calm and soothing tone will be sure to make your trip with Thunder Jet one to remember. Kayla is on our front line team and will help you with ANYTHING and EVERYTHING you need to know about Queenstown.
---
Gemma Kelly (VIP of Misc Stuff)
Jack of all trades, master of none, Gemma keeps our base running ever so smoothly, she knows EVERYTHING there is to know about jet boating around Queenstown.
---
Haley Kelly
Working hard or hardly working? When we do see Haley she is deep in future thoughts, or putting together amazing conference and events activities.
---
Andre Cockburn (Groove)
This strapping young/ish team member is always keen for adventure, his passion for Queenstown and jet boating keeps growing even when he doesn't.
---
Alex McGlashan (The Token Aussie)
Alex can't get enough of the outdoors. If he's not playing ice-hockey or snowboarding, he's mountain biking. But his jet boating skills are still proven to be far better than any other hobby he turns his hand to.
---

Jim Turner (Jet Boat Jim)
"Jet Boat Jim, he spins you grin!" Originally from the south of England, Jim now considers Queenstown his home. He's either driving a jet boat or building one! He's also known for his love of Land Rovers.
---
Levi Prier (The Baby)
You can see this guys grin from the gondola! A Kiwi through and through, his jokes and good humour are sure to make your trip unforgettable.
---
Neville Kelly (The Boss)
We have over 30 years of jet boating stored into this strapping young man, count your lucky stars if Neville's your driver because he is well known as a Jet Boating Legend.
---
Kylie Tomlin (Captin' Safety)
Captain Safety is who we have here, Kylie will make sure you are safe and sound down the river with exceptional driving skills; this is one girl to watch out for.
---
Debbie Kelly (Camp Mum)
We try to keep Debbie on her toes but she has eyes in the back of her head. She will have your holiday and experiences fine tuned so you can sit back, relax and enjoy.
---

The Late Sass Kelly
This guy……… you will see him schmoozing up to the visitors, specially the ones who have just visited Ferg Burger. Sass has been captured on thousands of scenic photos, he is a Queenstown Bay Icon. We are so grateful he works at Thunder Jet rounding up the customers.
Our lovely Sass sadly passed away on the 24th December 2017. He was such a laid back soul who loved just sitting back and taking the world in. A loving friend who will forever have a special place in our hearts.