Isobel Turner is coming back!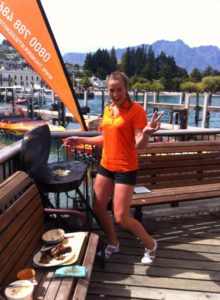 What she doesn't know is there is now an initiation…
After years of begging Thunder Jet to take her back, we've made some room and are welcoming Izzi back this summer.
Two years ago Izzi joined our Thunder Jet team and brought us a summer bursting with fun and laughter. Along with her clumsiness and tanning on the jet boat between sales (when she wasn't on her phone), we are so excited to have her back!
So here she comes, lively, longhaired and luscious. If you haven't already seen this bold beauty in many of our marketing campaigns, we can't wait for you all to meet her.
You can take the girl out of Invercargill…
Izzi got the opportunity to fly with Queenstown Paraflights for an amazing experience. When she returned to solid ground she said, not so gracefully, "A stubby wouldn't go a miss up there!" Well, you can take the girl out of Invercargill, but you can't take Invercargill out of the girl!
We are stoked to have her back – bring on SUMMER!
P.S. We got our hands on some past images that we think represent Izzi perfectly… Happy initiation, Iz! Oh, did we forget to mention that you must be thrown in the lake on your first day back?
Want to meet more of the Thunder Jet team? FOLLOW US!
@ThunderJetQT