Thunder Jet has raised the bar!
We've raised the bar yet again and dropped a New Zealand first right here into the heart of Queenstown!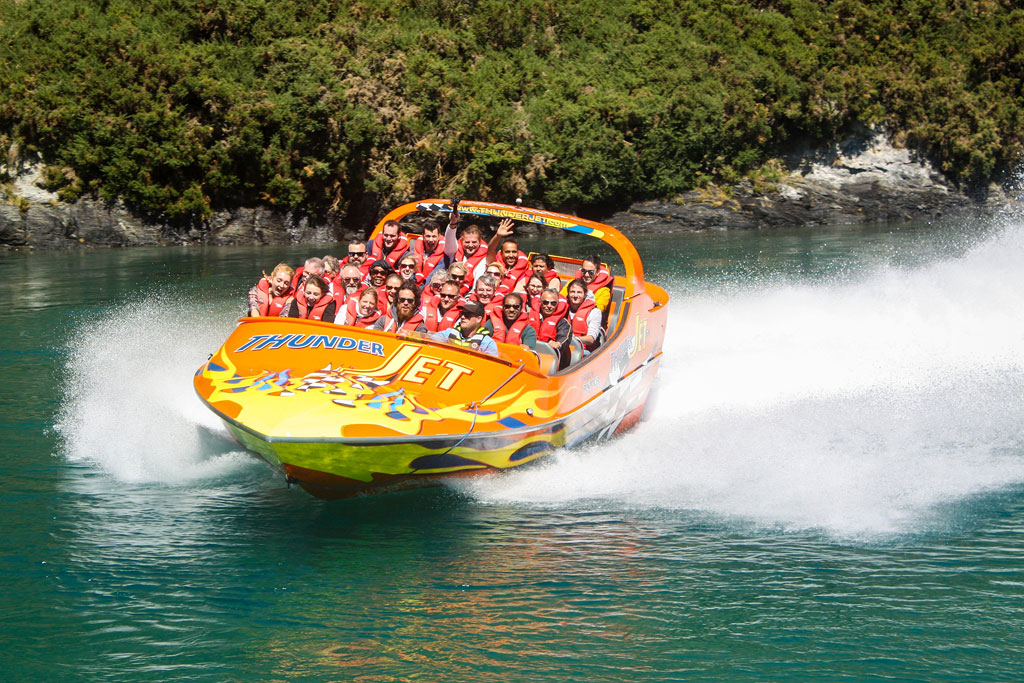 New generation jet boat launches in Queenstown.
An innovative new generation of jet boat has launched onto the Queenstown scene, able to carry almost double the number of passengers than an average river jet boat.
Joining the ranks of Queenstown's fast-growing Thunder Jet fleet, the jet boat was designed and built by McKenzie Marine in Bluff and is the first of its kind to use the powerful Ford Raptor engine. Thunder Jet 4 can carry 34 passengers at a time, dwarfing the standard 20 passengers, but uses the same amount of fuel as a standard jet boat.
Jet boat pioneer and Thunder Jet owner Neville Kelly came up with the concept in 2015 when planning how best to manage the current increase in demand and future-proof the company, given expected tourism growth.
"We've operated Thunder 4 since Christmas Eve and have been blown away by its performance. It handles as well, if not better than our smaller boats," says Neville.
The boat is already proving a hit with large groups and families.
"One of the things we hear from groups and families is they don't want to split up to do the trip, and families don't want one of the parents to have to stay back with the smallest child. In our boats the whole family can go together from toddlers up. They just have to fit our life jackets!"
Thunder Jet 4's unique interior hull design means it is unsinkable. With an impeccable safety record, all of the company's drivers also hold higher maritime safety qualifications than the standard required for jet boat drivers. Each of the drivers has a Skippers' restricted licence, their commercial jet boat licence, and a wealth of knowledge and experience.
"While safety is obviously our number one priority, our customers come away from their experience sporting huge grins," says Neville. "Our ride takes people skimming across the lake and then weaves between the cliffs and along the braids of the Kawarau river, with a few famous Hamilton spins thrown in for good measure. Thunder Jet 4 also boasts a 600W sound system which massively adds to the whole adventure."
The addition of Thunder 4 will allow the company to meet current and future demand. While Queenstown tourism is booming, Thunder Jet's extraordinary success in its five years of operation has also been recognised with its award as a Deloitte top 50 fastest-growing company in 2013.
Tech specs of Thunder 4
Next generation 6.2L Ford Raptor engines
CAD designed and laser cut
Eight metre length
600w Fusion touchscreen sound system with built-in subwoofers
About Thunder Jet
Thunder Jet offers an unforgettable 47km jet boat ride across Lake Wakatipu and along the Kawarau River. Get up close and personal with the dramatic alpine scenery surrounds as you power past towering cliffs, hugging the water's edge from the comfort of the state-of-the-art jet boats.
For more information about Thunder Jet go to www.thunderjet.co.nz.
ENDS
For more information contact:
Haley Kelly
P: 021 863 628
E: info@thunderjet.co.nz